North Saanich
Luxury living is all in how you look at it. Some people prefer the appeal afforded by the high rise condominium building penthouse; a home that puts the owner literally on top of the world. Others may prefer an estate like mansion located in the midst of a rainforest setting, while still others may think of luxury living as an estate surrounded by pastoral lands.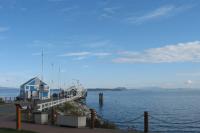 Sidney Pier
British Columbia, and the west coast in particular, offers all of these luxury real estate scenarios and more. More than anything else, the exclusivity of neighbourhoods within the province are defined by price; many times, the price is due to efforts to keep out further development. This is the case when one is discussing the high end homes and living opportunities in the community of North Saanich, in the city of Victoria.
The indigenous people of the area refer to North Saanich as Eetsun-Hunnumut, which when loosely translated means "the place where it is good to be". It has been called the finest residential rural area in all of Canada, and with good reason. Located within minutes of the province's political nerve centre and the famous Victoria International Airport (not to mention Swartz Bay, BC's prize winning Ferry Terminal), North Saanich is part parkland and part estate land. Numerous areas have been preserved from any sort of development, with the Island Pacific coastline preserved in all its unique magnificence. Bordered on three sides by the Pacific Ocean and with the rare arbutus tree growing everywhere, homes in North Saanich are truly a part of a paradise on earth. Oceanfront homes for sale in North Saanich are often newer custom designed masterpieces but you will also still find a handfull of homes representing the luxury homes of different eras.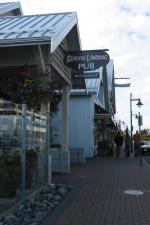 Downtown Sidney
There are several communities that make up the larger neighbourhood of North Saanich, including the town of Sidney. Here, you will find the largest concentration of marinas anywhere in British Columbia, perfect for mooring your pleasure craft in between excursions up and down the Island coastline or through the Georgia Strait.
Mansion style homes run up, across, and over again the entire length of the North Saanich border, commanding ocean front views and paralleled by the dozens of parks that define the community. Efforts have been made to keep the entire area as rural as possible, so almost every residential opportunity is afforded by single stand alone dwellings. Luxury neighbourhoods in the area include Armore, Tanner Park, Deep Cove and areas of Sidney.
Residents of North Saanich can enjoy all that rural living has to offer, including five star golf at the Glen Meadows Golf and Country Club in Sidney, the British Columbia Aviation Museum, and the Saanich Historical Artifacts Society (which includes a 29 acre park as well as displays).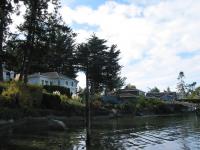 Robert's Bay Waterfront Homes
As far as outdoor recreation, the opportunities of North Saanich are unparalleled. Lucky residents can leave their houses and within minute be plying the Pacific waters in kayak, canoe, speedboat, yacht, or sailboat. The waters are shared by killer whales, sea otters, harbour seals, and numerous other aquatic species. Aside from golf, active residents can also hike the hundreds of trails that run through the park system of North Saanich.
When it comes to luxury living in British Columbia, North Saanich truly is "the place where it is good to be".
Click here for oceanfront homes for sale in North Saanich.