B.C. Waterfront Real Estate Developers: 
---
Reach thousands of buyers who are looking specifically for B.C. waterfront and water view properties for sale every month.
Waterfront West's "Find a Development" section is one of the least expensive ways to get your new waterfront or water view development out to a qualified audience of interested BC waterfront buyers.
Waterfront West Demographics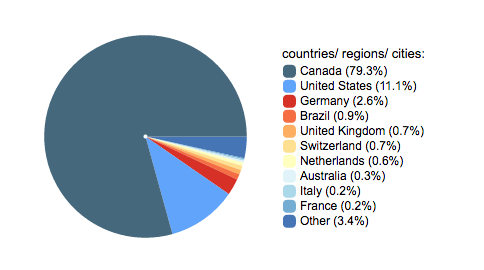 Waterfront West is on the first page of Google search results (usually Top 5)  for a wide range of BC waterfront real estate terms.
Thousands of unique visitors/month come to our site to look at BC waterfront properties for sale.
Access Qualified Buyers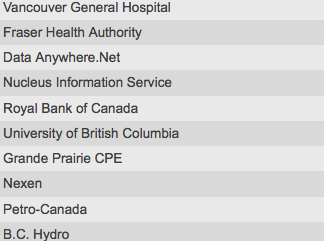 Our niche market attracts qualified buyers working for energy and technology companies, provincial health authorities, banks and cities.
The screen capture to the right shows some of the top companies of visitors accessing Waterfront West. 
Target Vancouver, Calgary, Edmonton
The majority of our search traffic originates from cities you are most likely already directing your marketing efforts at: Greater Vancouver, Calgary, Edmonton and Victoria. Why spend thousands of dollars on reaching buyers in these cities with print in local papers, etc... when you have a captive audience of people in these cities who have come to Waterfront West specifically looking for B.C. waterfront real estate for sale (for substantially less)?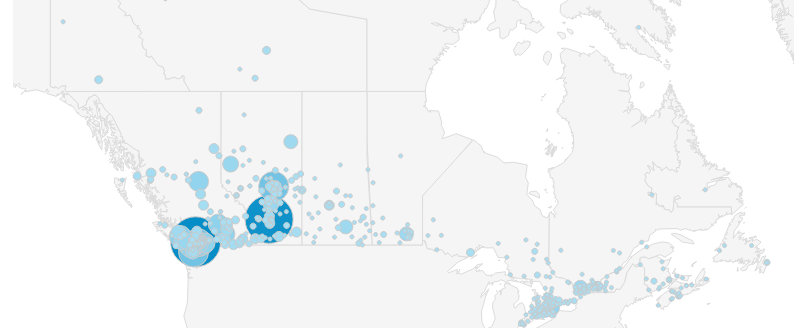 Get Your Development
on Waterfront West Now for
$389.00+GST/1 Year
Development Pro Plan 
This package includes all the benefits of our Business Single Property Plan with the added exposure of being featured in our "Find a Development" section.  As a special bonus, you also receive 8 weeks of "Hot Property" status (value $198).
Includes:
Unlimited photos.

Video embed 

(link to your YouTube video).




Unlimited description of your property including rates, special features, etc...

Inclusion in our email alerts for member buyers.
Property inquiry form 

(with hidden email to protect from spam).




Contact information.

Seller or Agent profile attached to your ad.


Link to your website.

Driving directions, 

Walkscore, 

Google Map integration, currency converter.

BONUS: 8 Weeks Hot Property Status (value $198)
$389.00+GST/1 Year 
What is "Hot Property" status:


Inclusion in "Featured Developments" slideshow on "Find a Development" page (random rotation).
Title of your development highlighted in red.
"Hot" Icon to the right hand side.
Call Us at 866-799-9378 to Get Started.
On this page, you will find video directions on how to start a campaign and add a banner ad to display on our site.
Please make sure you have referred to this video prior to contacting our support team with questions.
How to Start a Banner Ad.
1. Start a Campaign, Pay and Create a Banner Ad.
http://www.youtube.com/embed/HAIN7-ZMJqQ?rel=0","allowfullscreen":"true","frameborder":"0","width":"425","height":"350"}}" height="350" width="425">
2. Wait for Approval Email and View Your Ad (remember to refresh the page a few times as it will be disllayed randomly with other ads). Also, you may not see you ad if you have geo-targeted an area and not included your own).